Back to all posts
Posted on
Grade 7 Speaking Competition Winners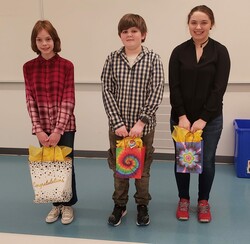 CONGRATULATIONS to our top 3 Speakers!!!
1st Place - Kaitlyn Rue
2nd Place - Kaden Knowler
3rd Place - Marley Lapierre
Considered one of the top fears, public speaking can be incredibly difficult for some people. Well, today our grade 7 students tackled their nerves and took to the stage to compete for first place to advance to the BTPS District Superintendent speaking competition - and man was it a competition! Each student was asked to prepare a 3-5 minute speech.Every single one of these grade 7 students put their best foot forward and we are so proud of how well they all did! A HUGE THANK YOU to our judges, Jason Dahlgren, Ariel Haubrich, and Mike Brink - you had a challenging job today, and it was an honour to have you in our class guiding this competition!